1.- 30+ Latest HTML5 Templates for Web Design.
HTML5
is one of the most popular and useful markup languages for the web design industry.
It has introduced a lot of new features which made the development and designing process much easier for developers and designers.
If you are in a search for a new html5 template for your website, then this post is for you.
We have showcased fresh html5 website templates that you can use in your website to make it look more stunning..
Nevia – Responsive HTML5 Template –
MORE INFO
Delicate – Responsive Multipurpose HTML5 Template –
MORE INFO
2.-
5 Free Cloud-Based Tools For Thoughtful Web Developers and Designers.
The title "webmaster" gets flung about roughly these days. Each blogger who has their personal personalblog.blogspot/wordpress/blogger/tumblr.com that they modernize once in a year ponders them to be a webmaster in the moveable terms presumable.
These webmasters don't care about conversions; click through rates, rankings, backlinks, domain authority, mobile performance, or a host of other figures that aid to regulate the performance and strength of a website. If you are thoughtful about your site/bog and desire it to do well then cram to love these tools that aid to analyze and measure your websites/blogs performance as well as modifying it to apt your viewer's requirements.
3.-
Mpstat is a computer command-line software used in unix-type operating systems to report (on the screen) processor related statistics.
The
mpstat
command writes to standard output activities for each avail- able processor, processor 0 being the first one. Global average activ- ities among all processors are also reported.
The mpstat command can be used both on SMP and UP machines, but in the latter, only global average activities will be printed. The interval parameter specifies the amount of time in seconds between each report. A value of 0 indicates that processors statistics are to be reported for the time since system startup (boot).
The count param- eter can be specified in conjunction with the interval parameter if this one is not set to zero. The value of count determines the number of reports generated at interval seconds apart. If the interval parame- ter is specified without the count parameter, the mpstat command gener- ates reports continuously.
4.-
The Ubuntu Edge is the next generation of personal computing: smartphone and desktop PC in one state-of-the-art device [Infographic].
5.-
Tcpdump is a very powerful command line interface packet sniffer.
Tcpdump
is a a powerful command-line packet analyzer; and libpcap, a portable C/C++ library for network traffic capture.
In this page, you'll find the latest stable version of tcpdump and libpcap, as well as current development snapshots, a complete documentation, and information about how to report bugs or contribute patches.
6.-
Introducing GNOME 3.8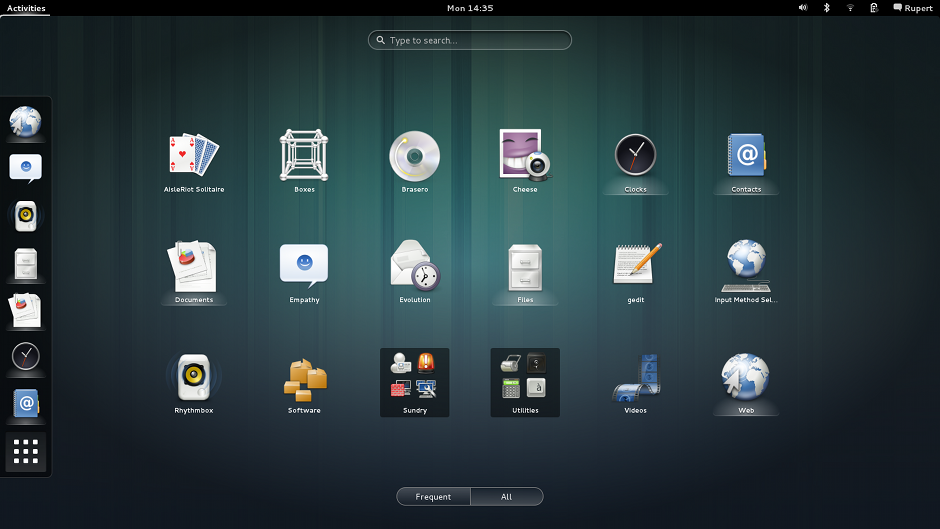 The
GNOME
community is proud to present GNOME 3.8.
This new release features numerous new features as well as a host of smaller enhancements.
3.8 is the result of 6 months of work by the GNOME Project and contains 35936 contributions by approximately 960 people. We think that it is the best version of GNOME to date.
Here are some of the improvements that can be found in the new release.
7.-
FreetuxTV a WebTV player for Ubuntu Linux system.
FreetuxTV
is a video player based on LibVLC allowing you to watch and record TV on your PC. A large database (growing daily) of free WebTV/WebRadio/WebCam channels in more than 20 languages is accessible.
You can also play streams from ISP television service if it provides this feature. Moreover, it is also possible to easily program your recording on each channel with differents transcoding formats.
The vlc package provides all multimedia codecs required by freetuxtv.
8.-
VirtualBox: Troubleshooting and Guest shows IDE errors for VDI on slow host file system
.
Troubleshooting.
This chapter provides answers to commonly asked questions. In order to improve your user experience with VirtualBox, it is recommended to read this section to learn more about common pitfalls and get recommendations on how to use the product.
General.
Collecting debugging information
For problem determination, it is often important to collect debugging information which can be analyzed by VirtualBox support. This section contains information about what kind of information can be obtained.
Every time VirtualBox starts up a VM, a log file is created containing some information about the VM configuration and runtime events. The log file is called VBox.log and resides in the VM log file folder.
9.-
How to maximize Twitter engagement? [Infographics]
10.-
How to protect Personal Information from sneaky apps? [Infographics].
If you liked this article, subscribe to the feed by clicking the image below to keep informed about new contents of the blog:
Do you consider this article interesting? Share it on your network of Twitter contacts, on your Facebook wall or simply press "+1" to suggest this result in searches in Google, Linkedin, Instagram or Pinterest. Spreading content that you find relevant helps this blog to grow. Thank you!